Darkness Retreat – Dream Practice

Data: Zaterdag 6 t/m zaterdag 13 januari 2018
Tijd: De eerste dag ben je welkom tussen 14.00 en 15.00 uur;
zaterdag de 13e eindigen we in de middag
Plaats: De boerderij van Paul en Marja Rila, Helenaveenseweg 41, Grashoek (dichtbij Venlo)
Informatie en opgave: Inge Maassen 
Kosten: € 745,- all in voor de 8 dagen, met heerlijk eten van kok Sonja Zonneveld
Barry Spendlove geeft deze zogenaamde In-Between Training samen met Inge.
De grens tussen waken en slapen gaan we verzachten, verstillen, verlengen – reizend op de trilling van Shamanistische, Tolteekse en Taoistische technieken. Inge Maassen zal het fysieke beustzijn tijdens deze dagen steeds opnieuw bekrachtigen.
Aangezien we nu 8 dagen in het donker toeven, is het belangrijk dat je jezelf kunt "dragen", ook op moeilijke momenten. Wanneer nog onbekend bent met de Healing Tao, moet je je tevoren goed verdiepen in de 5 elementen, om mee te kunnen met het meditatieve gedeelte. Een kennismakingsgesprek met Inge behoort tot de voorwaarden, mocht zij je niet kennen.
Ever wondered what happens when falling asleep?
Where do we go? Inside? Out?
Is it possible to keep our conscious body awake while falling asleep?
What we are referring to as the inbetween
is not a vague misty space in which we can easily get lost.
We remain fully in the physical/awake while also being fully in the spiritual/asleep. We explore the asleep from deep in the physical.
In the dark we spend a lot of time in this space.
Heaven comes fully into our earth.
We explore different frequencies and dimensions from deep within our physical being.
There is clarity here, openness, oneness and freedom.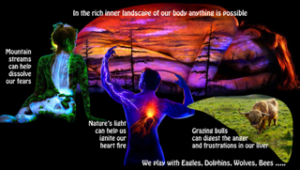 We will play in and fully explore the in-between – where everything is possible.
With Barry we invite the forces of nature
that will support us in letting go all
and everything that stops us realising our full potential.
Birds, bees, cats, trees, dolphins and dragons –
the playful wisdom of the plant and animal kingdom
will enrich our inner landcape.
 
With one foot in the awake and the other in the asleep
we will explore the Bagua and our inner alchemy.
Journeying through the eight forces,
the five elements, the three treasures and yinyangyuan.
Playing combining observing.
 
In the darkness we play together, creating, having fun, smiling a lot.
 Barry:
"We have been very lucky to be offered this house for our dark retreat. It is a house in which we can keep the light out but still allow fresh air in. The local environment is perfect for us and the house already supports a regular Daoist alchemical practice.
Complete darkness profoundly changes the sensory awareness of the human body/brain. We become deprived of our usual reference – sight and sound takes a backseat and turns inwards. The major cortical centres of the brain shut down depressing the mental and cognitive functions of the higher brain centre's. Emotional and feeling states, the sense of smell and psychic perception are enhanced. Dreams become more lucid, the boundaries between dream states and conscious awareness become more relaxed. We become more aware of spirit, soul and source, we sink naturally into the deep void of inner space."